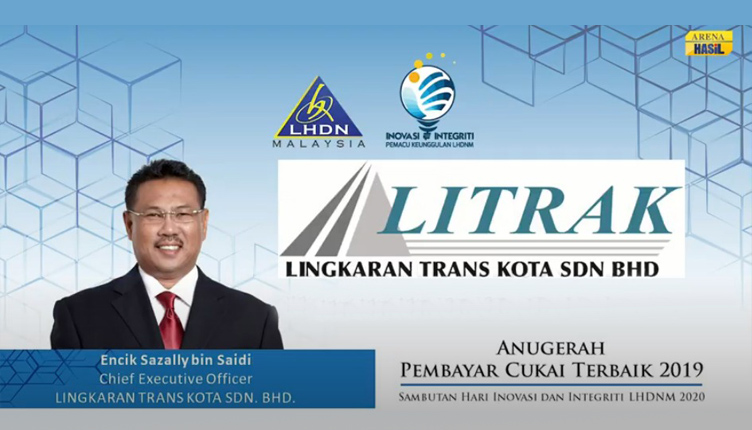 Subang Jaya – Lingkaran Trans Kota Sdn Bhd (LITRAK), the operator of Lebuhraya Damansara-Puchong (LDP) has received recognition from the Inland Revenue Board (IRB) through the Best Taxpayer Award for 2019.
The award was presented by YB Senator Tengku Dato 'Sri Zafrul bin Tengku Abdul Aziz, Minister of Finance Malaysia in conjunction with the Opening Ceremony of Innovation and Integrity Day Inland Revenue Board (IRB), which was held virtually through YouTube today.
En. Sazally Bin Saidi, Chief Executive Officer of LITRAK said, "We are aware of the importance of taxes which is the biggest contributor to efficient national administration. The proceeds from this tax will help the Government for the purpose of physical development and infrastructure of the country for the convenience of the people. This is also our prove of commitment as a company responsible for assisting the Government for national development"
This award recognizes LITRAK as a responsible taxpayer and one of the major contributors to the nation's tax revenue. This initiative from the Inland Revenue Board (IRB) is aimed at appreciating taxpayers who continue to exhibit high compliance performance based on tax records throughout 2019.
Earlier, LITRAK also received recognition for "Best Performing Highway 2020 – MyExpressway Rating Certificate" under the open-toll system category from the Malaysian Road Safety Research Institute (MIROS).