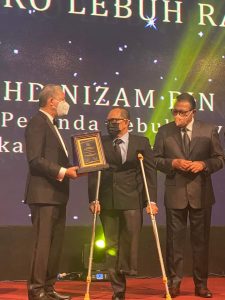 3 DECEMBER 2021
PRESS RELEASE
FOR IMMEDIATE RELEASE
---
LEBUHRAYA DAMANSARA-PUCHONG (LDP) AUXILLIARY POLICE RECEIVED HIGHWAY HERO AWARD
Subang Jaya – In a Highway Industry Awards 2021 ceremony organized by the Malaysian Highway Authority yesterday, LDP Auxiliary Police Sergeant (AP) Nizam Mohd Salleh, 54, was recognized through the Highway Hero Award category for his dedication and courage in carrying out his responsibilities to protect the safety of highway users while on duty.
The Highway Hero Award is given specifically to recognize the services of individuals or agencies who have shown courage, dedication and efforts to protect lives, rescue victims involved in accidents and in other required situations.
The award was presented by Yang Berhomat Dato' Sri Haji Fadillah Haji Yusof, Senior Minister of Works, at the Putrajaya Marriott Hotel. Sergeant (AP) Nizam Mohd Salleh was given the recognition based on his swift and courageous action in successfully detaining criminal at the Puchong Selatan Toll Plaza, LDP in December 2017 and in the following year, helping to detain aggressive driver who attacked a security guard at the Petaling Jaya Selatan Toll Plaza, LDP. He is also one of the recipients of the Inspector General Police Award in 2018.
Sergeant (AP) Nizam Mohd Salleh was a former COVID patient who suffered from complications of diabetes that caused his left leg to be amputated. He is still serving with LITRAK till present.
The first time held ceremony was aimed to give recognition and appreciation to the Malaysian highway industry key players, who are involved directly or indirectly. Among the seven other categories awarded were Highway Leadership Award, Highway Innovation and Safety Award, Green Highway Award, Best Highway Brand Communication Award, Best Information Management Award, Highway Dynamic Design Award, and Highway Construction Technology Innovation Award.
Issued by,
Shah Rizal Mohamed Fawzi
Communications Department